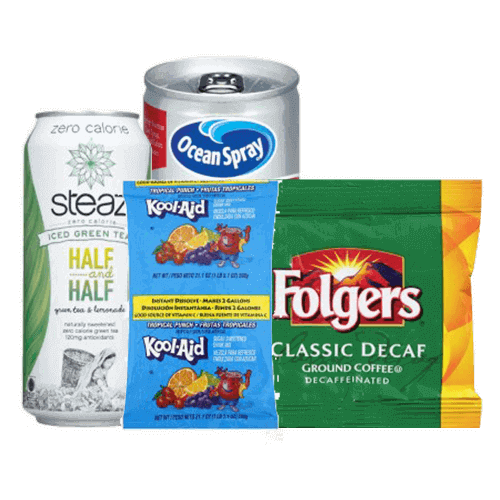 Offering beverages can be a great way to keep your team motivated or delight clients with an added level of service in your workplace or facility. Regardless of your needs, ordering wholesale drinks is the best way to keep your beverage orders budget-friendly while still providing quality refreshments. Enjoy competitive pricing, reliable shipping, and premium flavored drinks products when you shop online at Warehouse 115.
Our Beverage Selection
We make it a point to offer something for everybody. Whether you own a hotel chain, an office, industrial facility, or any other business, having a coffee and tea station is a great way to keep your team and clients happy. In addition to offering coffee, tea, sweeteners, creamers, stirrers, and disposable cups, we also sell sports drink mixes, lemonade mixes, vegetable juices, high energy drinks, and so much more. Keep your home or business stocked and ready with our affordable wholesale drinks and disposable serving products.
Enjoy Outstanding Customer Service at Warehouse 115
It's clear that our prices and selection set us apart from the competition, but there are plenty of other reasons to choose Warehouse 115 for all of your bulk day-to-day essentials. We've earned our sterling reputation by consistently going the extra mile to keep our valued customers happy, and our customer service is second to none. We also offer some of the reliable shipping times in the industry.
If you're looking for wholesale drink suppliers who know how to keep customers happy, give us a try. We're confident you'll be more than satisfied with your experience. Call (678) 961-4606 (M-F 7:00am -7:00pm EST) or send an email to hi@warehouse115.com for more information, or simply place your order online today. Shop smart at Warehouse 115.